Sung Sot Cave Halong Bay :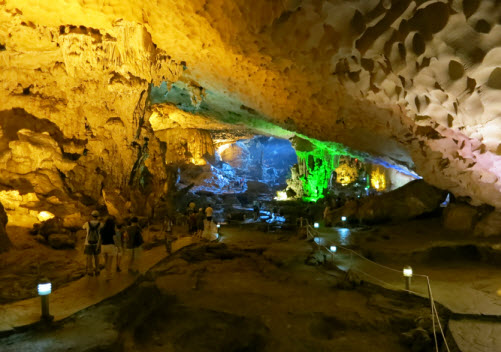 There are two partitions in Sung Sot cave. The first one is similar to a theater hall with many stalactites hanging from the high ceiling. A narrow passage leads to the second chamber, where a flow of natural light bathes the surfaces. The light is filtering in from above, through a large opening creating a natural skylight, this opening also serves as the exit from the cave.The deepest point of this chamber a "royal garden" appears with a clear pond and a fascinating landscape of small mountains. Many birds and plants here.Sung Sot cave covers some 10,000 m2. There are thousands of stalactites and stalagmites along the 500-meter paved passage. Light posts line the passage and illuminate the amazing scenery. Spotlights of varied colors are placed in such a way to be unobtrusive and add to the enchantment of the grotto.Sung Sot cave is about 30 metres high, the walls and innumerable cracks and crevices are evidence of millions of years of spectacular natural creation. Close to the exit a mammoth formation stretches from floor to ceiling, tapering at the center to form a concave pillar that appears to be keeping the ceiling in place. Walking through the cave ones imagination can run wild conjuring up all kinds of fantastic creatures and fanciful creations.
Location: Bai Tho (Poem) Mountain lies at the heart of Halong City, Quang Ninh Province.
Characteristics: From a far, the 106-meter-limestone mountain looks like a huge castle with three imposing towers. Its past name Truyen Dang means Light Projecting. This mountain has inspired many poets. 
In 1468, during his inspection tour to the eastern region, King Le Thanh Tong stopped here. Inspired by the stunning beauty of Halong, the King wrote a poem and had it carved into the southern side of the mountain, hence its name Bai Tho (Poem). In 1729, Lord Trinh Cuong composed a poem in response to that of King Le Thanh Tong and also had it carved near the former. The mountain features other poems by Nguyen Can and some other poets.
Atop Bai Tho Mountain, you feel surprised at the magnificent landscape of Halong Bay. In the background of immense emerald waters, of rock bobbing, of high sky, of surrounding flowers and trees, you can figure out the tiny images of boats. Bai Tho makes up one of the beauty spots of Halong
Perfect Journey to Discover The World Heritage
Head Office : 74 Hang Bac Street , Old Quarter,Hoan Kiem, Hanoi
Meeting point at Hai Au Restaurant No 5 Bai Chay Beach Str, Halong Bay City
Hotline/WhatsApp : + 84 942 006 888 - Vietnam phone line: 0942 006 888
Email : halongbayoneday@gmail.com
Website : www.halongbayoneday.com
Halong Bay One Day Travelers's experiences
Because of passport problems (it was stolen) we had an extra couple of days in Hanoi. We decided the best way to make the best of a bad situation was to do something exciting. So we booked a one day tour from Hanoi - Halong Bay. Amazing really we booked on Tuesday afternoon and were on the tour next day - a small group tour of 17 people on a minibus.
The minibus picked us up at our hotel (Church Boutique in the Old Quarter) at just after 8-00 AM. Afyer nearly an hour of crawling through Hanoi traffic to collect other members of the tour we set off on the 170 km journey to Halong Bay. With the obligatory 25 minute toilet stop at a massive retail outlet where all manner of souvenirs, objet d'art and food we continued our jouney to Halong Bay. Overall we were on the bus for nearly 4 hours.
Just as we arrived the heavens opened up with a drenching rainstorm. Fortunately we were able to transfer to our "Dragon Boat" which took us on a short cruise through the stunning scenery of the bay somewhat less spectacular because of the rain and low cloud. We were fed an adequate lunch - mostly sea-food presented in Vietnamese style.
The cruise and lunch were timed so that we arrived to visit the Dao Go cave with some spectacular limestone cave formations. The lighting effects enhanced the views. The caves are not actively building structures because they are much too open. This is just one of the caves of thousands in the area on the nearly 2000 islands displaying spectacular karst topography.
Our visit also coincided with a tropical downpour which saw the poncho venors out in force. You need to be reasobaly fit - there are 200 steps up and 200 steps down to negotiate on the visit. When itis as wet as we experienced the steps are uneven and slippery - just take your time.
Magically after we exited the cave the clouds rolled away and the sun came out - exposing the dramatic scenery of the bay as we continued our cruise out to a floating village and a ride on a local craft operated by one woman power. This was a really nice peaceful boat trip into another spectacular formation through a narrow opening in the rock wall - the boat trio was $6 extra.
Then back to Ha Long City which is going through a massive development push and our minibus for the return journey to Hanoi.Again another obligatory toilet stop at a massive retail outlet and return to Hanoi by about 8.30 PM. In all we spent about 8 hours travelling in the minibus for 4 hours of cruising and sughtseeing on Halong Bay. We could have had a more leisulely 2 day tour to see much the same thing with an overnight on a Dragon Boat or even a 3 day tour if we wished.
The day tour cost us $45USD per person. We thought it was good value for money. The guide was knowledgable and personable. There was a good atmosphere on the minibus with 17 people from 10 countries as passengers - UN on a minibus. Given our circumstances we did not need any more time in the area and I suspect that the three day tour could become a bit boring - you can only absorn so much spectacular scenery of the same kind before you are overloaded. Halong Bay is rightly a world heritage area and really is a must see in Vietnam. We are glad that our enforced extra time in Hanoi enabled us to include this area in our visit to Vietnam. It is stunning and a one day trip is the minimum time required to include it in your itinerary..